Garlic? Good! Good! Beer? Even better! Brussels sprouts can be rather bleh but this recipe is definitely not bleh. This is recipe from The Craft of Stone Brewing Co. and a dish served at the Stone Brewing World Bistro & Gardens in Escondido, CA. But, with it being Idaho Craft Beer Month, we used Payette Brewing's Sofa King Hazy Pale . Side note: You don't see a ton of pale ales on the shelf anymore. Hazy is now the default, I suppose? I digress…
Ingredients
1 pound Brussels sprouts (about 4 cups)
1/4 cup canola or vegetable oil
1/4 pancetta, diced
6 cloves of garlic, minced
1 1/2 cups (12 fluid ounces) pale ale
1/4 vegetable stock
Salt
Freshly ground black pepper
Finely diced tomato, for garnish
Shaved or grated Parmigiano-Reggiano cheese, for garnish
Directions
Set up a steamer with 1 to 2 inches of salted water and bring the water to a rolling boi. Put the Brussels spouts in the steamer, cover, and cook until slightly tender, about 4 minutes. Drain and immediately transfer the sprouts to a large bowl of ice water to halt the cooking and preserve their bright green color. Let them cool in the ice water for about one minute, the drain. Lay them on a clean dish towel and pat dry (Note: I didn't pat dry and it came back to bite me in later steps so don't skimp on the draining and patting!). Cut them in half vertically, right through the core.
In a large wok or cast-iron skillet, heat the oil over high heat until it begins to shimmer. Turn the heat down to medium. Add the pancetta and cook, stirring occasionally, until it begins to brown (Full disclosure, I couldn't find pancetta so I used prosciutto and torn it into small pieces. Not the same as pancetta but the dish would have been lacking without it! Bacon could also work in this scenario but may take longer). Stir in the garlic and cook until fragrant, about 30 seconds. Turn the heat up to high, add the Brussels sprouts, and cook, stirring occasionally, until lightly browned, 4 – 5 minutes (this is where not properly drying was a problem. It took mine MUCH longer to cook off the excess water and never quite crisped up).
Add the beer and continue to cook over high heat until the liquid is mostly evaporated. Deglaze the pan by adding the vegetable stock, stirring and scraping up any browned bits that may be stuck to the pan.
Season with salt and pepper to taste. Garnish with the tomato and Parmigiano-Reggiano. Serve immediately.
Hey Sheila, why don't you have pictures of the cooking process. This dish was very good but the pictures didn't look appetizing so I didn't want to discourage you from making this. This is the prosciutto cooking… see what I mean? It's a real skill to photograph food and perhaps with practice, I will get better. Either way, I get to eat and enjoy beer!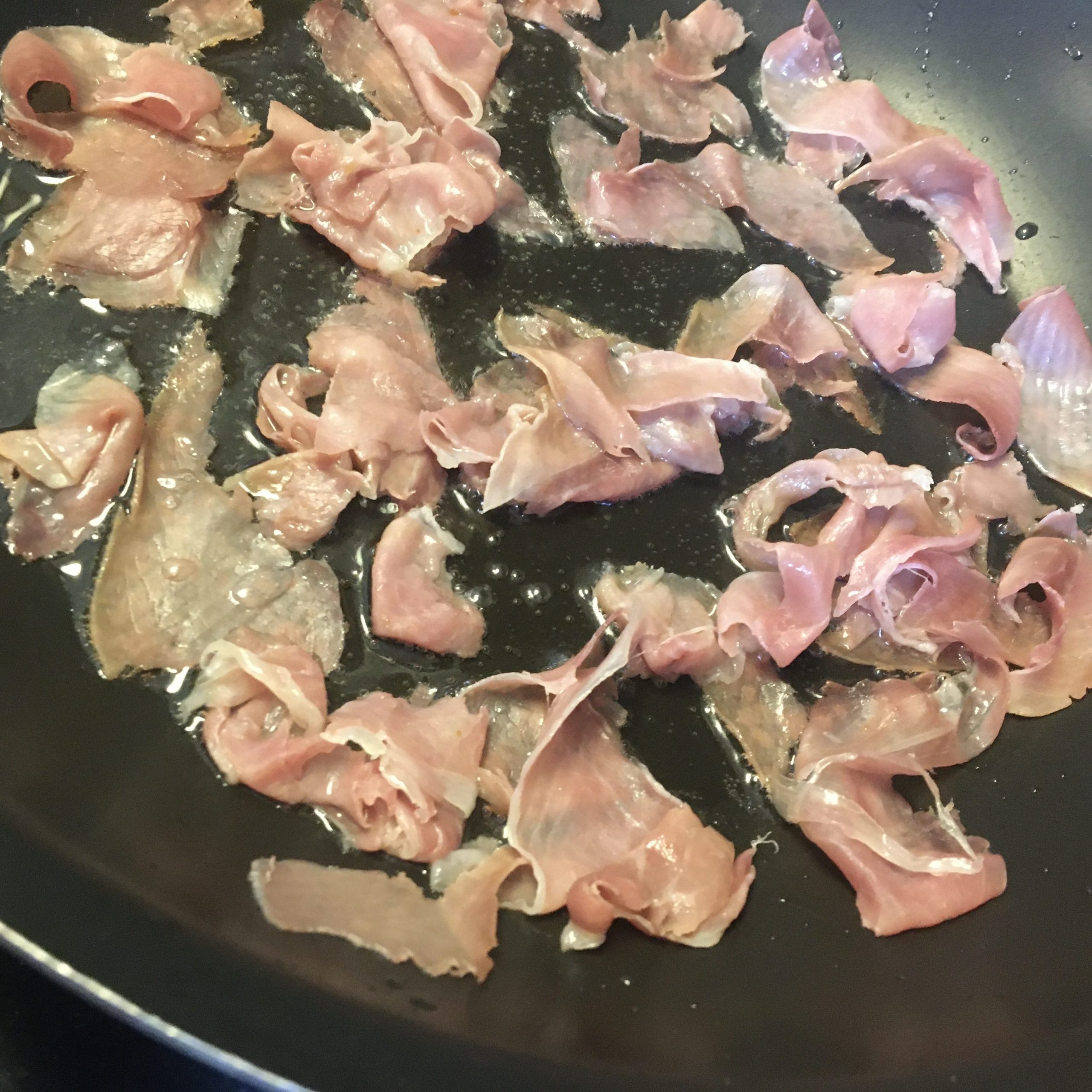 Enjoy!
– Sheila, Executive Director, Idaho Brewers United