Let's get one thing out of the way. I am not a professional chef but I did keep notes along the way to help you avoid my mistakes. The folks that make those cool instagram reels of cooking, like where they drop and onion and suddenly it's minced, I have a new respect for those videos. I tried and will spare you.
Cooking with beer can be quite fun and the food (usually) ends up delicious. For Idaho Craft Beer Month, I have set-out to make five different dishes with various Idaho craft beers. The first installment is Brown Ale Elk Meatballs. I have chosen to cook with Grand Teton Brewing's Bitch Creek Brown Ale. This beer has won quite a few medals in beer competitions and just darn tasty to drink. For this recipe, you don't have to use Bitch Creek but we do recommend a brown ale to compliment the flavors of the meatball.
Recipe Source: The American Craft Beer Cookbook by John Holl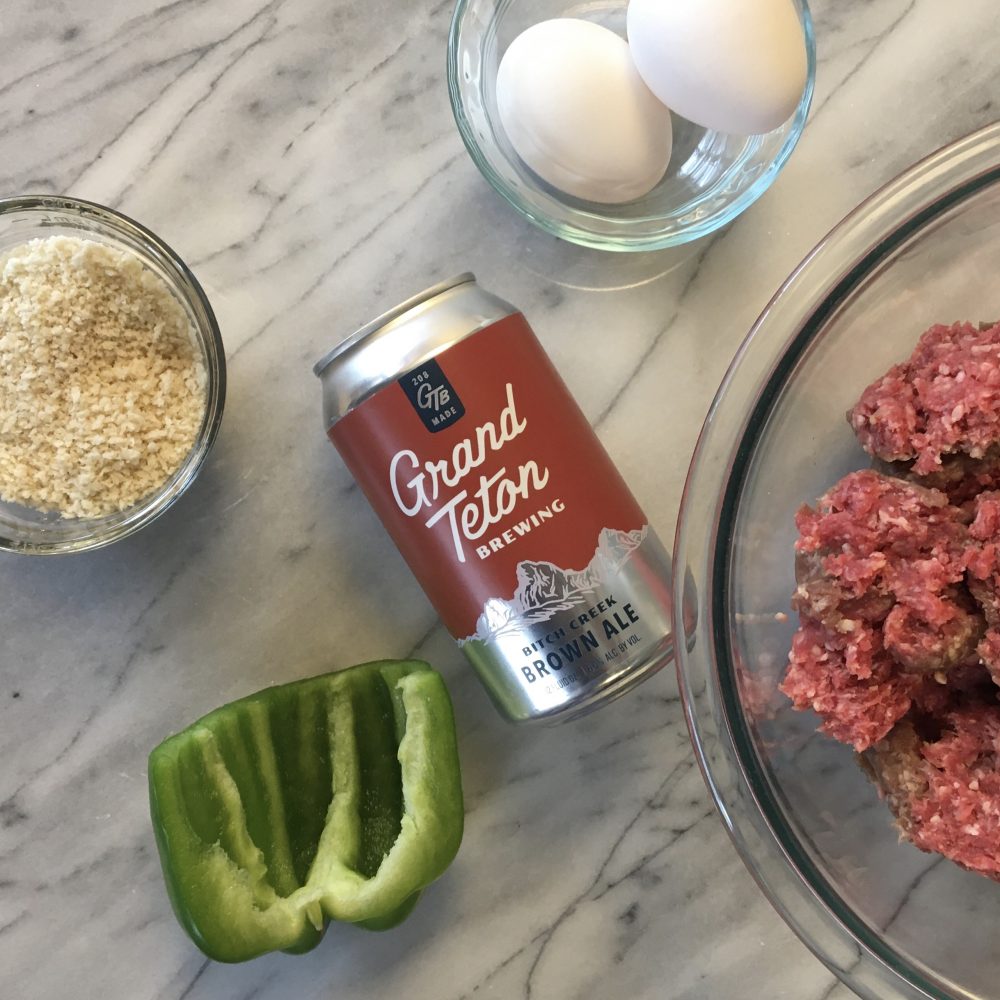 Ingredients
1 (12oz) can of Brown Ale
1/2 cup panko breadcrumbs
2 tbsp extra virgin olive oil
1/2 green pepper, cored, seeded and minced
1/2 sweet onion, minced
2-3 garlic cloves, minced
1 pound ground elk (beef, pork, lamb or a combo would work!)
2 eggs
1/2 tbsp finely chopped fresh parsley
Salt & ground pepper
Vegetable or canola oil, for pan frying
"Chef's" Notes
When the recipe says minced, it means it! I was some where between a mince and a dice for the pepper and onion and it didn't quite work.
You might not actually use all the beer. Oh well, something to sip while you cook.
These are small meatballs! One inch cooks much better than anything larger. I made some bigger and they don't cook all the way through well or fell apart (also because of my lack of mincing).
Other notes will be italicized along the way.
Directions
Slowly add the beer to the breadcrumbs in a small mixing bowl and blend until the mixture has the consistency of wet sand. I dumped it all in and ended up with beer with floating breadcrumbs. I suggest adding slowly and stopping when you reach the desired consistency. Sip the rest as you proceed Set aside.
Heat the olive oil in a skillet of medium-low heat. Add the green pepper and onions and cook, stirring occasionally. 5 – 7 minutes. Add the garlic the last 30-60 seconds. Set aside.
Combine the meat, eggs, parsley, salt, and pepper (no real measurement for the s+p, use "to taste", whatever that means when using raw meat and you can't actually taste). Mix in the breadcrumb mixture with your hands, and then add in the vegetable mixture and incorporate throughly. Yes, using your hands is the best method!
Again, with your hands, shape the meat mixture into 1-inch balls, squeezing out any air pockets within the balls while shaping them. Place on a large plate or baking sheet.
Heat 1/4 inch of vegetable or canola oil in a large skillet over medium heat. Add the meatballs just before the oil begins to smoke. Cook, rotating the balls occasionally, until brown on all sides. 8 – 9 minutes or a lot longer if you made the balls too big. The people that know things recommend cooking to an internal temperature of at least 160 degrees Fahrenheit. Serve immediately with the desired accompaniments such as spaghetti and tomato sauce. Don't forget the beer to drink alongside!
As Julia Child would say, bon appétit! #pintsupidaho
– Sheila, Executive Director, Idaho Brewers United